Remember the day when we 1st met??
you pulled me up
you pulled me right
you thought I was tight
but indeed I was just perfectly Right
– Your 1st Bra

Every step for a young girl is a milestone in itself…
remember those lovely mommy talks… those polite thought
All you beautiful ladies out there share with us your 1st Bra experience and get a chance to win
3 Hipster / 3 Thong set , from "AFFINITAS"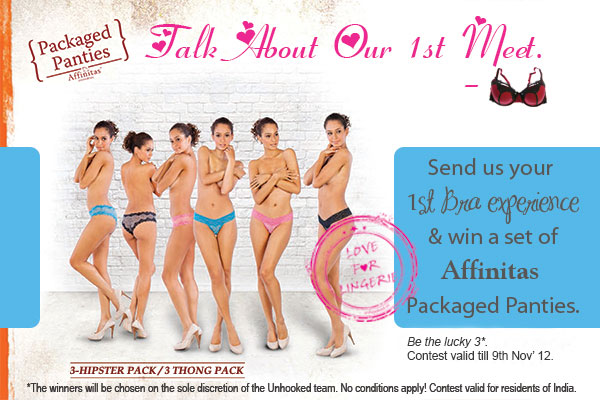 Refresh the story long lost away.
You never know you might be the lucky three*.
Post you comment as soon as possible…
Entries open till November 9th, 2012.
Visit Affinitas hot collection at:
Web: www.affinitasintimates.com
Twitter: @AffinitasIntima (http://twitter.com/AffinitasIntima)
Facebook: www.facebook.com/pages/Affinitas
Pinterest: pinterest.com/affinitas
YouTube: www.youtube.com/affinitasintimates
*The best  3 winners will be chosen on the sole discretion of the Unhooked team. No conditions apply! Contest valid for residents of India.