Now that you are acquainted with online shopping and are excited to buy your first pair of lingerie online, here are a few tips that will help you with the process.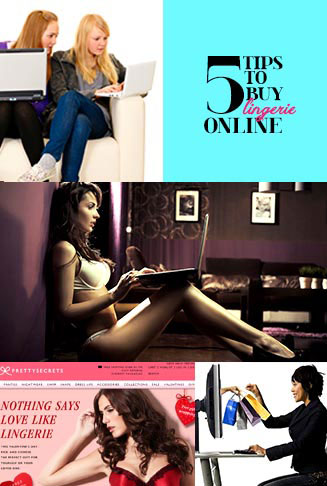 1. Browse through various sites
There are a large number of sites available to buy lingerie off the net. Check at least two or three of then before getting comfortable with a single site. Once you have zeroed in on a single site, get used to the navigation of the site and read through their terms and policies. This will keep you well abreast with the fabric of the website and help you take a well informed decision. Some of the well known websites include homeshop18.com, yebhi.com, zivame.com and jabong.com.
2. Read reviews of shopping sites online
After looking through a couple of websites, checking for reviews about them online is a good idea. Getting others view and feedback on such sites are normally very helpful and gives you a closer insight into the site's relationship with its customers.
3. Double check your size
Though size remains standard across brands, ensure you know your size right. Take into account recent changes in your body and just to be sure,measure yourself before placing the online order. The lingerie shopping websites themselves display a chart from which you can figure out your exact size.
4. Decide your mode of payment
All online shopping sites provide various methods of paying such as payment through credit/debit card, net banking, cash on delivery etc. Though the most preferred mode of payment is cash on delivery, all sites offer secure online transactions and each transaction is given a code so that tracking, in case of any problem, is easy. In case you are paying through credit/debit card, keep your card details ready and enter them carefully in the right fields .
5. Do a trial run
If this is the first time you are buying from an online store, try to place a small order first. Before placing the order check the pictures well and order after a good deal of deliberation. Instead of placing a bulk order the first time, making a small order will help you get acquainted to the process of shopping online.