So now that you know how to identify if you have the wrong bra, it's time you knew the secret to picking the right bra.
Everyone knows the very basic "how to measure yourself" routine. Here is just brushing up the basic concept for you.
Step 1:
Take a measuring tape and run it around your chest just underneath your breasts. Write down the measurement in inches. Make sure the tape measure is not twisted anywhere, is horizontal and fairly snug. This is your band size. If the number is odd, round off to the next even number.
Step2: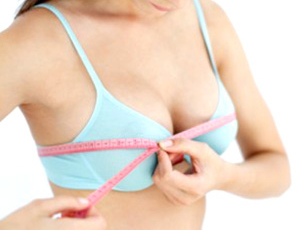 While measuring the cup size, wear an un-padded bra or better do it braless. Run the tape around the fullest part of your chest and again take down the measurement in inches. This will be the deciding factor for the cup size. Calculate the difference between this and the band size.
Step3:
If the difference is:


After finding your correct size, before making the purchase, try out the bra. This will help you understand and judge the fit of a bra better. Many women are unaware of even the right way to wear a bra. The right way to wear your bra is by first slipping on the straps and then lightly bending so that the breasts fall in to the cup. After the bras are inside the cup, fasten the hook at the centre of your back. Now check for the following
1.The breast should be fully inside the cup. It shouldn't be spilling from either the front or the sides. At the same time, there shouldn't be an empty space between the breast and the cup
2.Hook the bra only in the last hook eye. The ideal fit is that it fits snugly while there is enough space for a single finger
3.The straps should be adjusted but it shouldn't dig in to your shoulders or fall off. It should sit gently on the shoulder
4.Wear a close fitting shirt/t-shirt/top. Check the look and observe the side view. Your breasts should be midway between your shoulders and elbows. You will know the fit better with your attire on top.
Take a good look into these factors before making a purchase. Go by your gut feeling, if it's the right fit, you will know. Even after measuring your size, the measured size need not necessarily be the perfect size as fitting changes with brand, model, style etc. So try one size bigger and one smaller than yours, just to be sure.
Go through this complete ritual before making a purchase. This will ensure that you are no more stuck with the wrong bra. So go out there and make your next bra the right purchase.