Lingerie forms a vital part of a woman's wardrobe. Besides enhancing the sex appeal of a woman, the right lingerie ensures self confidence as well. Every woman is gifted with a unique bust shape. You just need to identify the right size and get the appropriate lingerie to uplift the curves rightly. If you have a small bust, there is nothing to worry or feel less privileged about. All you need to do is choose the right undergarment to feel attractive. Unhooked helps you do that with this post…
The Perfect Design
A small bust minimizes sex appeal because it tends to reduce the curves that add a lot of attractiveness to the physical appearance of a woman. As a result, your confidence level gets a major blow.
There are two choices that are perfect for small busts – padded bras and push-up bras. Padded bras are lined with extra foam to add fullness to the small bust. Apart from this they also provide adequate support. These days gel, water and air pads are used in bras which add movement to make it look more natural. Although padded bras do add shape and fullness, they fall short in giving you the desired lift.
Push-up bras not only enhance your bust size but push the breasts towards each other so that you acquire the perfect cleavage. They are padded with foam, gel or rubber and are structured appropriately. With small bust, you have the advantage to go for maximum skin show without looking vulgar.
Balconette bras with three-fourth coverage or demi-cup bras with semi-coverage are great options too. Bras with appealing cup shapes like triangle cups are also suitable alternatives for adding shape to your bust.
Suitable Style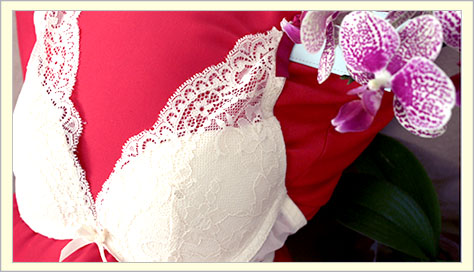 There are certain fashion tips that can give an extra edge to your bust shape. If padded or push-up bras are not your cup of tea, then simply try out other lingerie items that help in shifting the focus to other features of your body. Since black or dark colors tend to give a slimming effect, it is better to select light-colored clothes. If you plan to don a bikini, opt for light colored bras with horizontal stripes to give an illusion of largeness to your bust. As far as possible, select strapless bras or bras with very thin straps. Bras with interesting necklines like halter, sweetheart, plunging V-neck, scoop or keyhole are perfect for small busts.
Small bust is actually an advantage because you have a wider choice in wardrobe. Wear the right lingerie and make full use of the body you are blessed with.