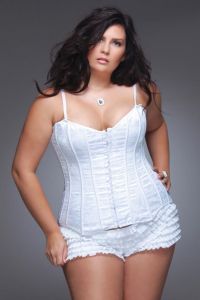 Anita was a big girl and one her biggest peeves was lingerie shopping. She would roam the streets looking for that perfect bra that wouldn't pop her breasts and would not poke her back. And when she did find something like that, she would have trouble finding a matching panty. Traditionally panties are always made with the assumption that women are tiny waisted ramp models. There have been many a fights between the elastic of the panty and the hip, each not willing to forego any ground. The end result? You have a deep red mark on your hips and a sore ego.
Anita decided to let go of matching her lingerie and now lives happily with her standard cotton bras and big underpants. But, for all full figured women out there, this is not the ultimate solution. You can still look and feel amazingly sexy and attractive with just the right pair of full figure lingerie.
New designs include a large cup size so that your breasts do not poke out to make a big unwanted shape on your T-shirt. The straps are thick with a good full support under the bra and behind it, preventing any type of back ache. And the best part? The cup sizes now cover the D cup and beyond! You don't have to compromise with the cup size and the strap as you can find a great match.
With panties, the thong like and French design is discarded for a more comfortable bloomer like option without all the 'bloom'. You look sexy in full figure panties made with a mix of cotton and nylon where the elastic does not attack you and the cloth does not bunch up your bottom. The designs still look great with the perfect V shape that accentuates your curves without revealing any of those problem areas. And you can match them to create a great set.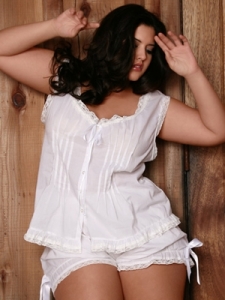 In India, you can find them online and offline with brands like Enamor (in both wired and non wired variety), Loveable (comfortable cotton straps), Triumph (great cup sizes), Wonderbra and Penny goddess. The price range is very affordable from Rs 499 to Rs 799, making you and your purse happy.