All of us have faced that situation where we've out grown a bra but don't really want to dispose it. So how can you recycle a bra and make something useful out of it? Unhooked shares with you some creative things you can do to re-use your old bra: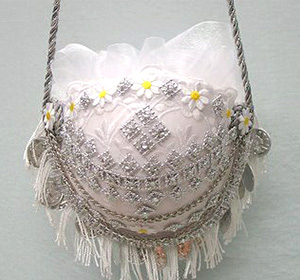 1. Convert into a purse
The bra purse has been very popular and has been used to spread awareness for breast cancer. It's simple to make and makes a great purse. If you choose to not carry it out you can always use it to store knick-knacks around the house. Start off by removing the wings and strap of the bra. Bring the cups together with them bulging outward.
Stitch/ glue the bottom and sides together leaving an opening at the top. You can attach back the strap or sew in other materials to make the handles. Add any kind of lace, sequence, buttons or any other embellishments you like, and voila your bra purse is done!
2. Hooks can be cut out to make bra extenders
Hooks from your old bras can be cut out and kept to be re-used as bra extenders. So the next time a bra becomes a little tight, you will have your own home made bra extenders to expand them.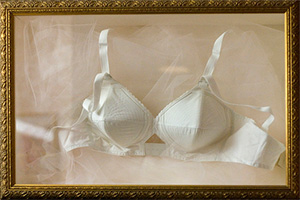 3. Frame it
Frame your favorite bra and hang it in your bathroom as a unique piece of ornamentation. It sure is a good way to flaunt your prized possession and it will add to the décor too.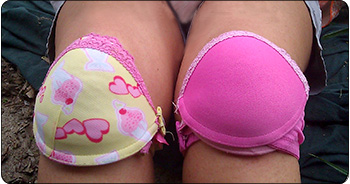 4. Use as knee pads
The bra can be cut up in half and each cup can be used as a knee pad when your child goes out to play. Any fall while running or cycling will now be safer and more protected. If your child feels embarrassed, it can always be worn inside full pants.
5. Donate
Its maybe just you who have grown out of the bra and maybe it is still useable. So, the most thoughtful and generous way of re-cycling your bra would be to give it away to the others who are in need of them.
The old bra could be stitched in to a camisole to add more support. A few old bras can be sewed together to make a quilt or a curtain border. Other kind of art and craft pieces too can be developed from old bras too. You can also come with a completely unique way of using it. So go wild and try to re-cycle your bra as creatively as you can. Do tell us what whacky new thing you made out of your old bra.