Caring for lingerie is as important as buying expensive and stylish ones. So longevity of bra becomes an important factor. Proper washing and storing can in fact increase the life of your lingerie be it shapewear or bra and panty.
WASHING
Hand-washing is by far considered the safest and the most preferred method to clean your intimates. For this you just have to soak lingerie for one hour into lukewarm water, rinse and pat dry the bras. Before line-drying, make sure to reshape the cups with your hands. Never wring or stretch them. Some bras like sports bras need regular washing which can be done with cold water.
Machine washing of lingerie should be done keeping some essential guidelines in mind.
Hook the back of the bras.
Put similar colored bras in lingerie bag and zip it before setting the machine.
Use cold water.
Avoid putting lingerie with towels and denims. The lint from the towels and other clothes may cling on to your precious lingerie and can play havoc with the fabric.
Never put your lingerie in a dryer as heat will break down the spandex and elasticity will be lost. After pat drying the bra, reshape the cups with your hand and line dry it.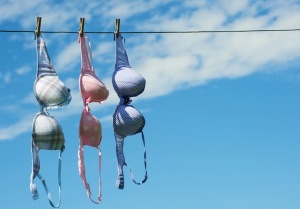 So you no longer need to worry a great deal about caring for your lingerie. Just follow the guidelines and increase the life of your most coveted under-things.