Did you carefully go through the last ten myths Unhooked tried to educate you on? We hope you did! In case you have missed out on them, scan our last few posts to read them, so that you have better knowledge about your lingerie and so that you don't just blindly follow myths that have been passed down the generations. Carrying forward from Common Myths about Lingerie – Part 2, Unhooked throws light upon five more myths:
Myth 1: Nothing is better than Cotton Lingerie

Since ages, women have one perception, that Cotton lingerie is the most apt thing for our climatic conditions. However, it is time you leave that old-school thought behind and try out new, comfortable and fashionable synthetic blend fabrics awaiting you in the lingerie stores. Unlike the boring cotton lingerie, these ones mould your breasts to perfection, last longer, give you the leeway to breathe better, have better elasticity and not to forget, have a wide range of styles and patterns that are extremely stylish and sexy.
However, if you still think that cotton is better, then you should go for cotton-spandex/Lycra bras in which major percentage of the fabric is made up of cotton, so it keeps all the good qualities you know and love, whilst also having the stretch ability and recovery of spandex.
Myth 2: Don't forget to wear two bras while exercising
With the growth and development in the lingerie industry, there is no need for you to discomfort yourself while you are exercising by wearing two bras. A sports bra over the normal one not only makes you feel hot and uneasy but also constricts your workout schedule. A good quality sports bra which is purchased after a slight research about your cup size and band size, is just the right thing that you need the next time you exercise.

Myth 3: No Moulded bra means 'Nipple Show'
Why do you think that if you don't wear a moulded bra it is mandatory for your nipples to show? It is not a moulded or a non-moulded bra that prevents your nipples from showing, rather it is the right placement of your nipples behind the centre seam that keeps your nipples from showing. In case your nipple surprise bothers you a lot, you could try out Nipple covers or Nipple tapes. This could be a helpful option for you.
Myth 4: Moulded bras are padded and make me look bigger than I already am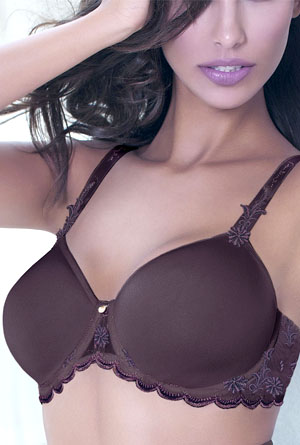 Women often tend to mix up Moulded bras with Padded bras. Moulded are the ones which are shaped by a heat-machine process and can feature a single layer of fabric or be heat fused with a thin layer of foam or fibrefill to provide stiffer, non-collapsing 'set' shape. However, Padded bras might have extra layers of softer fabric making bras thicker than usual, giving a more uplifted look.Moulded bra cups are permanently shaped so they keep their shape even when they are worn.
Myth 5: 'Minimisers' make your breasts look smaller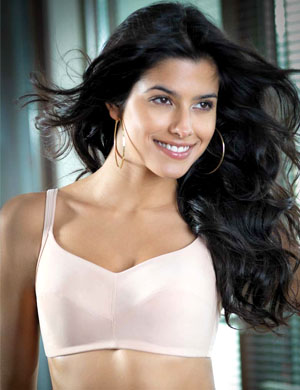 Just as some of you think that Moulded bras make you look bigger, some of you may also have the opinion that bras marketed as 'minimisers', make you look thinner. However, Minimizers do have the tendency to flatten or 'squash' your bust, so that there is no projection at all and make you feel slimmer. But it also gives an unflattering shape as your breast tissue is pushed down towards your waist, so that there is less definition between bust and waist. A better option for this are bras (not 'minimisers') that, when fitted correctly, minimise parts of your figure and provide an extremely flattering & slimming effect.
That's our five myths for today! Read Unhooked tomorrow for our last part of Common Myths about Lingerie and do let us know if we helped you out in any way.