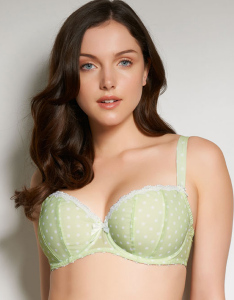 Don't we all remember our first dates? The feeling of being unsure, not really knowing what to do, what to say and how to behave at all?
Natasha never liked to really behave when it came to dates. She had no rules. She was out there for fun and at 30 something was very happy with the progress she made. She never really met the guy beyond the first date but that doesn't mean she didn't take him home. She had a simple rule when it came to date night lingerie, show enough to tantalise him and then hide enough so he wants to uncover you all the more. She would wear large padded push up bras under her dresses and yet hide her cleavage while giving a slight hint. She would pair this up with a sexy pair of lace stockings and garter and ever so often cross and uncross her legs, a la Sharon Stone and give him a small preview of what he would get.
For the less adventurous, Ria has a better tip. She wants her lingerie to be comfortable on a date night. You don't want to fidget around in your chair and think about tight underwear while chatting up that cute guy. Go for a comfortable thong she suggests. It has to be comfortable, she insists and a thong will eliminate the unlucky panty lines that many dresses and clothes tend to highlight and you need not think twice about any extra show. The bra needs to hold your breasts properly and you don't really need to bother with matching up, you are obviously not taking the guy home on the first date now.
Date night lingerie means you need to be sexy and showy but just enough. And how do you know what really is the limit? You can be a red bra under a white sheer top girl or a bloomer under a LBD girl. It is for you to decide. Your lingerie needs to be comfortable and not make your date dress look any weird. You need to focus on putting on your best for the date night and maybe give him a sneak peak of the gift that you have.
Beyond the first date, you know where you guys are heading and with this, try experimenting with laces (they are huge this season) and corset type lingerie (they make your dress also look amazing, with a tiny waist) or maybe go commando?