In one of our previous posts we brought forward the topic of British men fancying G-strings for their valentine. Assuming that it would be other men's choice too, you might go out and buy yourself a sexy G-string. However, before you do that, Unhooked gives you a glimpse into the difference between a G-string and its look-a-like 'Thong'. This will help you pick exactly what you like and not get confused.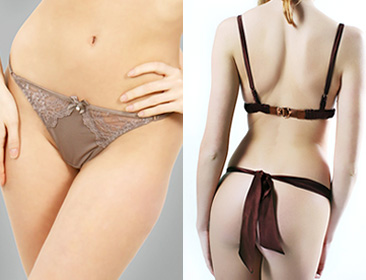 G-string and Thongs have a similar fashion mould but differ in material, shape and size. A Thong has a thicker band and a crotch, whereas a G-string is a large triangle in front attached to a small triangle or other strings in the back, by a very thin string of fabric.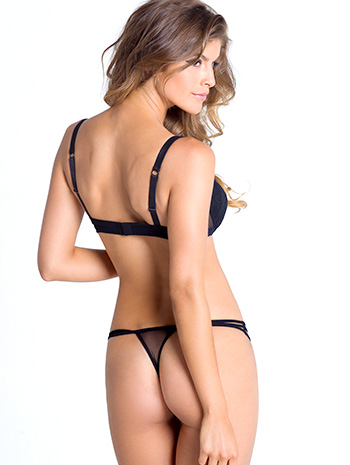 Some might say that G-strings are very painful but then it has its own advantages, in the form that this line of fabric rests snugly yet comfortably along the perianal. It is actually not even noticeable if you are wearing the right size. The sides are also made of extremely thin bands that should be snug, yet not leave marks around the hips or waist. G-strings can be classified as V-backs, T-backs, and some that have a little triangle in the back. They can be worn with pants and skirts, thus if you are thinking of choosing your underwear for your low-waist skirt you might want to pick up a comfortable and attractive G-string.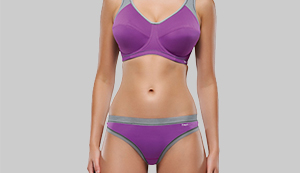 On the other hand, Thongs might have a thicker band and crotch, and its panty-line might be visible, but then it provides the best comfort and support for your sports events or other events where a lot of running around is required.
Talking of G-string being the sexier one, its fabric adds to its advantage. The synthetic elastic fabrics offer the most comfortable choices and colours. If you have what look like "stripper" panties, then you have the right kind. These are secure, breathable, and extremely comfortable. They stay dry, unlike cotton, and cause no irritation to your delicate parts. They can be put into any wash cycle and you won't have to worry about them losing their elasticity, form, or colour. However, if you are a cotton lover, then you need to be more careful about what you get. Remember that cotton tends to shrink, so buy a size bigger, then wash, and dry them on high heat. Since cotton holds in moisture, it can be a bit uncomfortable by the end of the day for some ladies. Therefore, it would be better to consider a cotton blend that has an elastic synthetic fabric woven into it.
I'm sure that after having read so much about the sexy G-string and Thongs, you would want to go out and shop for it, but you may wonder where to purchase them from. Unhooked comes to your rescue with these e-commerce websites where you can order from: www.prettysecrets.com,www.zivame.com, www.shopimagine.in. If you need to visit a store, and would want to try it on before you buy it you can visit outlets like Marks & Spencer or La Senza to name a few. In case you are looking at your local retailer, request him for a Triumph or an Enamor G-string amongst others.