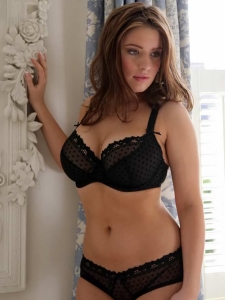 There is this girl who comes to my gym. A tall slender woman who wears layers of clothes over her gym pants. A large sports bra coupled with a tank top and a boyfriend T-shirt on top. She is sweaty and uncomfortable the whole time and can be spotted near the large mirrors in the corner adjusting her many layers of tops. The men cannot stop staring at her and she feels very conscious of the fact. She avoids the treadmill like the plague and skips all jumping routines.
One glance at her later and you would notice that she is greatly endowed and a conversation later you know of her troubles.
She usually ends up buying a size too large, for her T-shirts do not fit across her chest. A regular fit size just renders her whole body invisible except for her large breasts that stubbornly push through the fabric.
A boon or a bane?
Indian women have been blessed with large bosoms, so much so that our traditional clothes always have a special place for them with a blouse and a choli set to be adjustable. With western clothes in abundance, it becomes a regular fight with biology, trying to wrestle into a decent pair of top, without looking like a sleaze ball or a laid back chump.
She has tried everything, from wearing oversized clothes to trying all styles of bras, half cups, full cups, cotton bras etc when the minimiser bra came to the rescue.
The basic principle of the minimiser bra is that it gives an illusion of a smaller breast size. The shape of the cup and the folds push the breasts into you in a smooth manner and you have breasts which are a cup smaller. The straps are thick to support the size of the breasts without jabbing and poking you.  It is pure genius! You don't have to worry about your breasts going off in all the wrong places, be comfortable in your own sized clothes and enjoy the feeling of freedom.
Indian market has a recent spurt in minimiser bras with western wear becoming the standard wear for many working women and college girls.  You can buy minimiser bras online or in regular shops with the following brands: Penny Plus, Loveable, Soie and Triumph.
And the cherry on the cake is the fact that you don't have to compromise on style or design, these brands have amazing styles from leather inspired ones to lacy bras, that not only are practical but make you feel sexy at the same time.