There are so many cool things we don't even know exist till we discover them somehow. There's one such fact that might come across as a shocking surprise to those of you that didn't know this. Unhooked unleashed one such facts about Intimate Apparel.
Garter belts are used by many of us during various occasions on varied attires. But since old times, garter belts were used for various unique purposes. Today what we use for the game a seduction or under an outfit to make it seem alluring or just for comfort was used as a secret hide out for carrying some things. Since olden times garter belts were used to hide things such as alcohol or guns or knives or phones or as a bullet keeper and many more such things.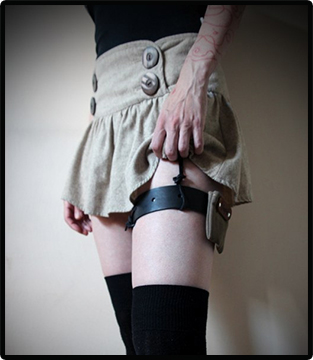 This definitely may come across as weird but factually is very useful. Garter belts with pockets are available till date. They can be used to carry phone under a dress or money when one doesn't feel like carrying a purse or a bag. There are various ways these pockets can be used to carry things that one really wants to carry somewhere for convenience or for the object to not be seen. These garters with pockets are actually very comfortable and don't tear easily. If one thinks that keeping stuff in the pockets of a garter made of hosiery, they can even opt for the leather garter belts which work out to be a bit costlier, but long lasting and indeed very sexy
So, how many of you really want to try these sexy Garter Belts with pockets and feel coy?