Dress in Christmas colors both outside and inside

It's the time of the year when everything gets draped in the shades of red and white. Christmas and Santa have spread these colors of joy in decorations, clothes, and even lingerie. Every year Christmas brings along a whole new range of lingerie inspired by its colors. So whether you buy it to surprise your spouse or as a gift for yourself make sure you blend in the joy of the festival. Beat the Christmas winters with warm and furry lingerie. For a change try the combination of white net and red furs. Another option is to dress sexy with lacy lingerie. Either a combination of red and white or just red can make you the perfect Christmas gift for your partner. These are comfortable and absolutely beautiful. Lacy corsets in red and white look very enchanting.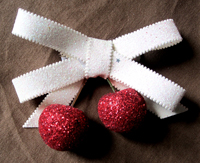 You can add sparkle to the festival with some sequence. Fill the festive season with glitters. Red lingerie with golden sequence or white lingerie with silver sequence can be a great combo. Red bras with sparkling jeweled visible straps can look absolutely sensational with your dress. Get inspired from the celebrations around you.
Get a cute satin red and white nightwear to keep the festivity on even while you're asleep. Polka dots are always a great option.
Glam you attire with some cool pair of red and white accessories. Stockings and gloves keep you warm and make you look pretty. Headbands and hats add more excitement to your Christmas look
It is the time for celebrations. It's so much fun to get colored in the shades of Christmas. Christmas lingerie will double your joy and add more fun to the festive spirit. So have you gifted yourself a pair of Christmas lingerie yet?