Generally when one talks about summer, all that comes to our mind is White. But are pastel shades the only ones that'll keep you light this summer? Unhooked brings to you the best ways to stay light yet Bright!!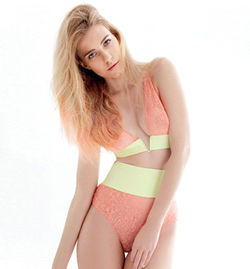 Pastel shades are not the only colours for heat women. Those of you who are the club junkies would definitely know what's in. Hell yeah, fluorescents are back!! Fluorescents are the new gothic. These are the colours that will reflect the heat just as the pastel shades do yet at the very same time they look very hip. You can wear any colour garment over these colours and even show off your bras freely cause guess what, they look hot.
There are two major colours that are in, this season, the yellow and the orange! Both the colours look extremely sexy in fluorescents and in neon. Yes, that's right. The other biggie this season is the Neon. Neon has never looked so poised before. People think that Neon looks great only as a light. This is a fallacy. This shade of colour looks the best when worn as a bra topped up with a tank top or a nice racer back and even with a translucent crimson shirt. It's a very simple idea and can be carried off with poise.
Neon culture came in with the psychedelics. The music of trance and open spaces combined to start off this culture. The major reason Neon came in was because it can easily catch anyone's attention. Thus we use this same concept now with humans and not their minds. Wear some hip fluorescent or neon coloured lingerie, top it up with a see through apparel that you otherwise wouldn't wear due to its transparency and see how you rock it!
P.S: If wearing a fluorescent or neon panties make sure whatever apparel you wear on the bottom is not a see through. Let it be a nice frilly skirt in cotton or a nice pair of shorts or anything that covers the neon radiation properly!Enjoy your summer ladies and definitely rock wherever you go with your killer looks! Trust me, the Neon effect will turn eyes around!