Hey guys,
It's time for some Holi fun! While most of you play Holi with colours and water, this time we shall play Holi with a slight twist! What's the twist? It's the Lucky Colour – Scratch Card twist!!
All you have to do is scratch the Scratch Card that appears on the Unhooked Blog's screen and comment below about what colour lingerie you think is appropriate for Holi and 'Why'!!
It's all about luck, and if the colour you get from the scratch card is lucky for you, you can get a chance to win yourself some colourful Holi intimate apparel prizes!!
So, what are you waiting for!! Get scratching and winning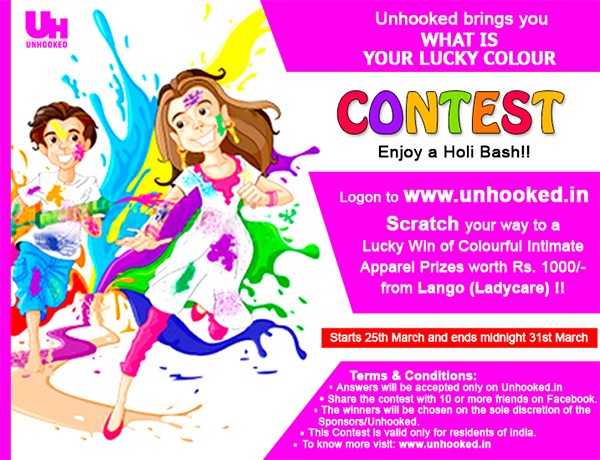 Remember to:
Comment below this blog post about which colour lingerie you think is suitable for Holi. Also, share with us 'why' you feel so.
Share the contest with 10 or more friends on Facebook
Share the URL of your Facebook profile along with your completed answer below this post
Contest starts 25th March 2013 and ends midnight 31st March 2013
Terms and Conditions
Only Comments below this blog post will be considered while choosing the winners. Facebook comments or entries will not be accepted
The winners will be on the sole discretion of the Unhooked Team
This Contest is valid only for residents of India
The prizes will be intimate apparel/lingerie related, so if any guys are participating, you have been notified about the nature of the prize
The prizes will be sent on the sole discretion of the Sponsors/Unhooked