Hovering between a 32 B and a 30 C means that when you wear a sexy white shirt, the only cleavage you will ever get is when you bum off at least half the top buttons off your shirt. Then there are the jokes about being flat chested, blouses and dresses adjusted for you and sexy lacy bras looking bland on you.
Been there and suffering from that.
So, I was shopping with my guy once when I spied a lingerie store in the mall. I went inside and the first question the salesgirl asked me, "Are you looking for a push-up bra?" So much for self respect, I nodded and was introduced to a world full of sexy cleavage and low cut dresses. I was in heaven and the gates were just opening.
This showed me to wonder lift bras for me and I have never been short of options to try. Topping my list is the amazing silicone adhesive bra. This stick on bra sticks to your breasts and gives a lift to them. Perfect for backless dresses, it gives a support under the breasts and pushes them up to increase your cleavage. In India, you may have some difficulty finding a silicone adhesive bra or a basic silicone lift bra as well but Glus does manage to store some. The price range can be from Rs 400 for a basic silicone lift to Rs 4000 for the body sculpting variety.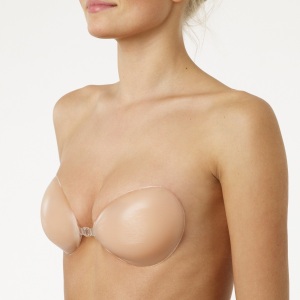 Stick on bras give support from beneath to your breasts giving you freedom from straps on the back and shoulders. These bras are great for backless dresses and off shoulder designs. Unlike the many older versions that you would have to adjust all the time, they not only give a firm support but lift the breasts to give you a cleavage and prevent that awful flat look. Stick on bras are available in the Indian market in the price range of Rs 700 and above with brands like Glus and N'gal leading the front. You can always find them online if your local store doesn't have them.
Push-up bras are closer to conventional bras with straps and all. The catch being, they push the breasts up with the make of the straps and make you look a size bigger than you actually are. These are perhaps the easiest to find in the Indian market with brands like Amante, Triumph, Penny Luster and Pretty Secrets stealing the market. The price ranges from Rs 600-1000 and is pretty affordable.