Talking about certain body types and the various issues faced by women with its adjustment, its certain that women are very conscious of their bodies and at times even very reserved due to this. Unhooked brings for you some tips and tricks to get rid of that shyness and look great immaterial of your body types.
There are times wherein we know that something is wrong but don't understand what that something is. Many women have been facing problems such as distended high tummy which look really obscene when one wears the bras incorrectly. Unhooked, for you, has got some dos and don'ts that one must keep in mind while lingerie shopping in case you suffer from this.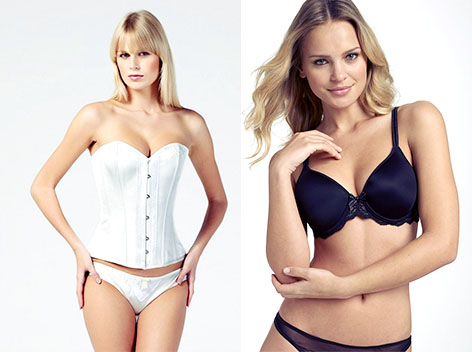 If one notices closely they'd know that in some women, an upper portion of the tummy right below the bust has a bulge to it. This is called a distended tummy which is very often found in women on the chubbier side. Any women would have this sort of a problem given they weigh more according to their average weight. In this case, the most important role is played by bras. One with a problem of this sort should wear the bras which have an arched centre panel so that the bulge in the tummy shouldn't come in between the breasts and look bad and feel extremely uncomfortable. Nevertheless centre panels that have a cord along the lines would be considerably more convenient as they would rest right above the tummy area and should be comfortable too.
The inverted V or U bras which have an arched centre serve the best; make you look great at the same time feel comfortable. So get hooked to the right bras and enjoy. Centre panels which have a cord will be able to rest above the tummy. Band-less bras (bras without a band under the cups) will be a better fit because there will be less cloth below the under-wires. Do not opt for bras without a centre panel and where the wires come close together in the centre of the breasts. Bustier styles bras can be problematic around the mid-section if the waist is larger than the rib cage measurement. With these tips, choose right and stay sexy.