At some point or the other you must have tried to link either shoes or hairstyles or something else with someone's personality. Wouldn't it be fun to know how lingerie and personality can be connected? Check this out!
FULL CUP OR T-SHIRT BRA
Are you the low maintenance kind of girl who likes to be more comfortable than stylish when it comes to your lingerie? Then most likely your lingerie drawer must be filled with full cup or T-shirt bras.You may also have the characteristics of an active girl who may be inclined towards artistic pursuits.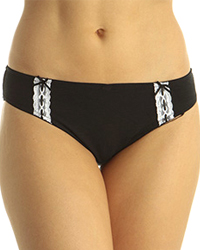 BRIEFS (a.k.a GRANNY PANTIES)
Just as you like to wear a T-shirt bra for comfort, you might prefer a brief over the rest of the panty styles. You are happier in covering yourself properly rather than feeling like you have a piece of dental floss lodged in places not meant for dental floss. You don't care about being very fancy and that's why you choose granny panties. Briefs also depict that you are very practical.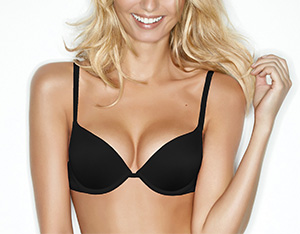 DEMI CUP OR PUSH-UP BRA
Do you wear Demi cup or a push-up bra more than the other bra styles? If you do, then you must be the 'think positive' & 'let's compete' kind of gal. You are up front and centre for any opportunity that comes your way and you ensure that you make the best of what you have.
BOY SHORTS
Do you like jumping around here and there, drink beer, belch, watch Monday night football and think that toilet humour is funny, like a tomboy? Then it's for sure that you'll prefer your panty to be comfortable and yet be sexier than the one that hitches up. You'll definitely prefer boy shots over anything else.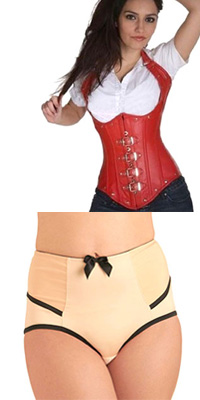 CORSET
Unlike the primitive era, Corsets are no longer used to suck in all our innards; instead they are now used as a seductive piece of bedroom "active" wear. If you dress up in a corset quite often then you are probably the playful and pleaser kinds. You know that guys are visually stimulated, and you're more than happy to accommodate.
RETRO UNDERWEAR
Although these are high-waist panties that pretty much cover your entire ass, but don't think that they are less fashionable because it has the boner-inducing powers. If you are the woman who feels powerful about your femininity and want to flaunt your exaggerated curves, then you'll definitely want own a lot of stylish retro underwear.
LACY BRA
If you wear lacy bras pretty often then you are the 'Girly-girl' kinds who like to be picky and very specific about your accessories from top to bottom. You may also have a dual personality of a promising mother but once you go to the bedroom at night, you would want to let out the diva in you.

G-STRING AND V-STRING
Some might think, "Why the hell should I pay so much for so less?" However, some of you wear it regularly. It is actually you who are confident and hep. And you probably have a great booty too, because this style is not worn comfortably by everyone.