Another problem that women might be facing is that of the non-traditional under bust crease. Unhooked with this post tries to solve your issue and ease out your trouble.
The under bust crease is the flesh of skin that runs along the bra's under-wire line. Sometimes the crease might not just be circular; it can just stand up horizontally rather than curling up right under the arm. It hasn't been caused due to some other thing. It's something that exists in women who are a bit heavier than normal and occurs due to the gradual change over the years, wherein the bust grows with age. So there's nothing to be ashamed of.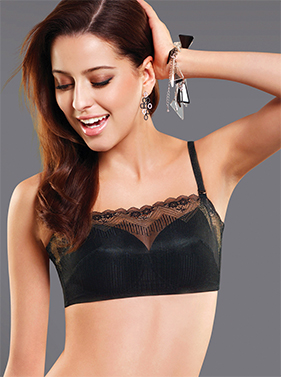 When minute issues like this are involved, it's always better to keep them in mind while dressing up. But then again the major part of the 'dressing up well' for women depends on their bras. So let's make you women choose the right thing for yourself.
For women facing this issue the right kind of bras would be the wireless soft cup bras that would rest properly under the bust at the same time won't put pressure onto your skin. And in case your bras, to some extent are self-protected, you can use Cami bras that keep your breasts upright and yet don't press the skin so much so that the crease becomes too prominent. You can also try corset bras or hip shapers that will give that finesse of smoothness to your skin. You can try these shapers when wearing a sexy one-piece or on formal wear.
Now there's absolutely nothing to be so ashamed or conscious about. Feel proud of the way you look and take time to dress well so that even destiny falls in love with you.
Many women have an under-bust crease that follows the same circular shape as a bra's underwire. However, women can have an under-bust crease that is not this circular shape – their crease stays horizontal rather than curving up under their arm, or sections of their crease are straight rather than curved. 
For many overweight women, a non-traditional shape is a common occurrence, and these women also tend to have a distended high tummy as well. For example, their crease may not curve up under their arm. So an underwire bra could rest on top of breast tissue, which is rather painful.This phenomenon is more unusual for women of average weight. Nothing has caused this; it simply occurred during breast development. Not sure what your breast crease looks like? Stand in front of a mirror and lift your arms up. This will give you your best view.
Bra Suggestions:
Soft cup (wire-free) bras.
Bras with less under-bust definition.
Cami bras, and/or bras with a shelf-bra design (elastic along the bottom edge) will work if the breasts are also self-supporting or semi-supporting.