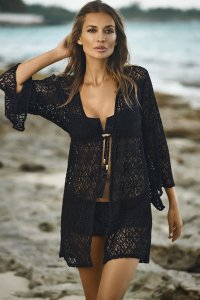 There is nothing worse than a girl's worst nightmare than lying on a poolside and you notice a breast peeking out, ever so slightly. Mortifying still, it is yours and suddenly! You are uncovered in a world full of half naked people judging you for your nakedness.
But then again, you don't want to look like someone's runaway grandmother on a beach with a bulky cover up, do you? As such, cover ups come in great style and design and for those looking to set the pool on fire, there are amazing inspirations from the swimsuit ramp right here:
Pleated Halter cover up: This one is great for those bad bikini days. A halter adds dimension to your shoulders and the pleats around the dress stick to give a good form to your figure. A great catch for a poolside party.
Boyfriend Shirt cover up: You can easily take an oversized shirt and drape it around you but instead go for a dedicated boyfriend's shirt (doesn't matter if you have one or want one or don't care), the fact is a large oversized shirt, sticking to your best assets and covering your bad ones is a great look for a casual day out by the pool.
Michael Kors Shoulder cover up: A simple cover up tunic dress with half sleeves and a soft, flowy material that sticks to your body and waist. The cut accentuates your chest and shoulders and adds length to the neck and makes a very classy statement.
Tommy Bahama vintage print cover up: There is nothing better than a large piece of soft, printed material over you, clinging to your wet body as you come out of the water, a la Baywatch. With this cover up paying a tribute to the stylish era, look for bold prints in translucent materials and go for monochromatic bikinis under it for added flavour.
PilyQ Noah cover up tunic: Lace made a loud statement some time back and coming back with a bang is a lace inspired cover up tunic that adds a much needed cover to your sexy swimsuits and gives you a lot of texture to strut your stuff with confidence.
Tommy Bahama hooded open cardigan: A cross between a sweatshirt and a cardigan, this cover up has a thin material but is sturdy enough for any adventurous beach outing. Just grab one and put it around your shoulder, it is great for showing off your toned midsections and designer swimsuits.