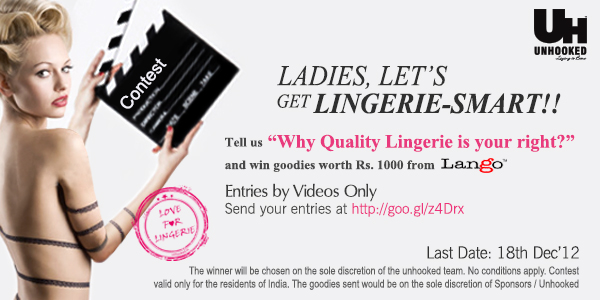 Dear ladies, did you ever realise that you are the most beautiful creation of Mother Nature? Not just that, but you are also the incarnation of that same creator? Perhaps not, for why else would you, for so many years keep yourself trapped in the most ill-fitted and hideous of inner wears that not only never made you feel beautiful, but left their ugly marks of their presence on you forever. Do you realise what we are talking about?
You guessed it right. We are referring to the badly-fitted, shapeless, incorrectly sized, allergy causing and attracting-attention-to-the-wrong-places kind of under garments that you have been consciously choosing to wear for years or even decades. Such an insult to who we are..
Does all this make you alert? So then ladies, switch 0n your handy-cam/webcam or mobile phone camera and make a video (only) telling us "why quality lingerie is your right" and upload it  here. Last date of entry is 18th December, 2012. The best 10 opinions will win gift hamper worth ₹1000 from Lango.
To know more about the wide range of elegant products availed by Lango, you could visit their website (www.ladycare.in).
Click Here To Upload your Video
Contest Rules:
1) Only Video Entries Qualify 2) 10 Best Entries Get Gift Hampers 3) Selection of Winners would be at Unhooked's Sole Discretion 4) Contest Valid for Resident of India 5) Winner Shall Have No Choice in GIFT Merchandises 6) Contest Ends at 6 PM on 18th December 2012