Sexy Shopping: Do You Do It Alone, or With Your Guy? Or Not at All?
There is a street in Paris, actually, there are many, all around Moulin Rouge. The lights dim around the general area and there is a reddish tinge all over, sweet scents waft around you and the noise, din and the general hustle bustle of Elsyees de Champs vanishes. Once you step into the street, you are transported into an all together different world.
A forbidden world.
A world of fantasy.
But should it be so forbidden? The streets have many shops selling sex toys, magazines, theme stuff and amazing lingerie. Sex is not taboo here. It is a part of your experience that is enjoyed, welcomed and pruned. You learn to love yourself and love your partner.
But then again, the French have always been good about and with sex.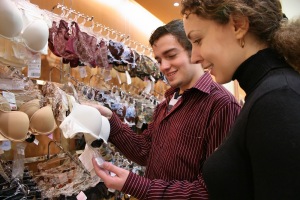 It is not just about procreation, you know. So how do you shop for sexy items? Whether it is looking for a good toy to heat the sheets or a piece of lingerie to surprise him?
I have come across many "sexy shoppers". There are the young girls bunching with their bffs at these stores, looking at items, blushing, giggling and buying some for the fun of it. Then there are the couples, shying from each other and then tentatively telling the other half what they should buy. There are the brazen single women, experimenting with stuff, those who do not need the men or would rather work on their own, the middle aged wife buying a surprise for her husband, the working husband looking to shock his wife and fulfill his fantasy, the sheepish boyfriend purchasing his first pair of naughty lingerie for his girl and then there is the confused one who would rather go to an online store.
Which category do you fall into? Or would like to be in?
It is not a forbidden territory as much as it is a hidden one. Embrace the woman in you because you are the only one most intimate with yourself. You have to tell your man what to do and what makes you happy and experiment with yourself, with your sexuality and with sex.