So we've been talking a lot about the pool season coming up and the latest swimwear trends this year. Now that we've decided to add high waisted swimwear to the collection, what's next? Unhooked brings you a list of the different colors, designs and print patterns to add to your swimwear collection…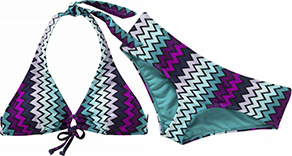 Red & Blue
These contrasting shades have been paired together since anyone can remember. The stark differences between these two colors helps bring out depth in the dress. Any level of saturation in each of the hues will still result in a beautiful combination. This has been a classic combination and there sure is a reason why it's called a classic. White can be seen very often with this color duo.
Flower Power
Floral prints are in trend all year round. They are highly feminine, pretty and so adaptable. They could be a part of formal attire and also holiday beach wear. These floral prints inspired by nature and the variety of flower can be very pleasing to the eye. Swimwear with these prints never go out of style and they can be picked out in any color and suits all body types.
Geometric
These patterns are so customizable and unique. They look very modern and youthful. They could be anything ranging from simple shapes to complex patterns. They add the fun touch to swimsuits and look great. You can pick out the pattern according to your shape: vertical stripes to look tall, circles to look curvier, haywire patterns to hide the extra pounds etc.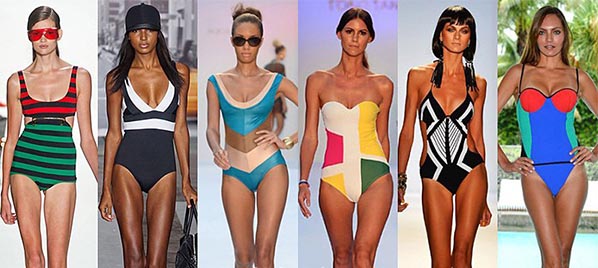 The swimwear season is in and it is time to hit the beach. A good number of brands have released their spring summer beach wear collection for 2013: Amante, Pretty Woman and Puma to name a few. Take a trip to your favourite intimate apparel store and bring home your favorite swimwear!