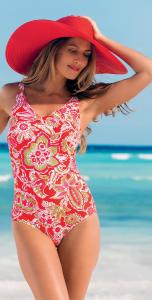 The Spring/Summer 2015 swimwear ramp is full of floral and geometrical inspired collection. With the cold dry winter coming to an end, the collection is full of flowers a la 1970's and eccentric geometrical patterns.
The ramp, earlier, saw a return to the disco era with flashy golden and bold colours and prints and this has transcended into the swimwear collection as well. The psychedelic era of the 1970's, the big hairdos and, glitter and glamour are major inspirations for such swimwear now.
You can buy such sexy swimwear from both Indian and foreign brands. The superdry collection features pale floral prints while Reebok takes this trend a bit further with a demure cut but bright flashy colours and prints. Pretty secrets has some of the best in this collection with bold geometrical prints and cuts. You can hook up with a French swimsuit, slashed at the waist with cuts for daring look or find yourself enamoured by multi coloured printed bikinis throwing a salute to bright Hawaiian designs and African floral prints.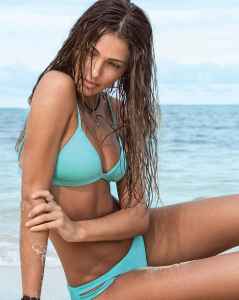 Indian designers Shivan & Narresh bring glamour to swimwear with some high end pieces in plain red and blue for a classy look and bright floral prints for bikinis. Some of their inspirations range from the wild islands of the Caribbean to the flora and fauna of the Bahamas. The swimwear accentuates the Indian figure and is great buy at around Rs 3000.
Puma looks to bring a sporty touch to this collection with its take on the floral and geometrical trend with the geometry more about the shape and the cut and demure prints. Roxy and American swam both feature bright prints and colours, going more for single or dual shades to brighten up the swim time.
The trend is a tribute to the era of bell bottoms and bold style statements and you can jazz up your style statement at the beach and the pool with large sunglasses and outlandish hairdos.