When we think of the calm of the night, the first thing that comes to mind is having a comfy nightwear. This is the time of the day that you are most at ease. According to the 'lazy girls' syndrome' our girls and ladies love to dwell in the comfort of a sleepwear all day long! Wake up woman! Shed those boxy, baggy nightgowns and get yourself a fashion update. Most of what you wear to bed is actually lounge wear. This something that you could wear in your home around others. Sleepwear should only be worn to bed or around those you are intimate with.
Now that you know what we are talking about, get ready to sizzle your partner's nights. Go for silks, satins and sheers like those peek–a-boo, revealing on the sly ones. Feminine florals, bold prints and bright colors is another option. Vintage laces and cute bunny prints sounds like fun too. May be it gets the playboy feel ignited, for all you know. Lacy chemises and flowing robes in soft fleece are very popular in bridal sleepwear.
Lace is the latest sensation in nightwear as it comes finely blended with satin, frills, stretchable and/or sheer micro-mesh fabric.
Brands:
Cloe's range of lacy and sheer babydolls
Enamor's lace overlay collection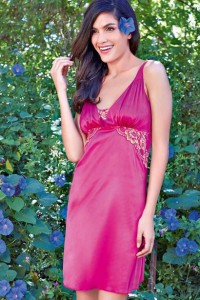 Sweet Dreams and B'witch now come with lace mixed with satin or cotton modal fabric. Coucou's teen fruity and animal print sleep tops are being enthusiastically shopped for. So, Play in the snug embrace of an ultra-soft and sensuous nightwear. Pick an assortment of quality nightwear that follows the various nuances of your most feminine effervescent sensibility. Whether it be doing chores at home in pajamas or jerseys during daytime or submitting to the pleasures in a lacy or satin babydoll, every woman must have the complete miscellany of sleep apparel.