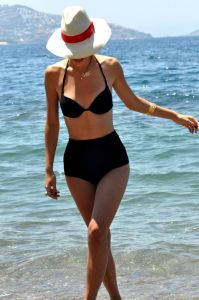 There was a time in history when women wore full body suits when out for a swim. Soon this changed into modest swim pieces with frocks and skirts attached to cover all of their modesty and then came the swimsuit models.
Those tall, beautiful species, strutting around a beach or in your favourite magazine wearing a delectable polka dotted bikini or a bright red one piece. Not afraid to show skin and yet teasing enough to leave a lot to the imagination. The swimsuit had come a long way.
As a chubby teenager, I would hide behind my "antique" pieces and now with a gym membership, I feel like splurging on more fashionable ones. Come swimsuit season and I scrounge around the many nooks and crannies of the online and offline market to find a piece to suit me the best. Short with no breasts, I have my shortcomings following which I decided to flaunt my legs this season.
This is where the high waisted swimsuit came to my rescue. Pouring over magazines and online catalogues, I discovered this fashion trend and I was blown over. Think back to the high waisted jeans of the 70s or the bell bottoms, how tiny they made the waist look and how the legs went on and on. Honestly, I wouldn't mind adding an illusion to my height if I can help it.
India has a great repertoire of high waisted swimsuit shops where you can look and shop to your heart's delight. Here is a list of markets and brands I found:
Jabong.com: Jabong manages to find good brands and at an affordable rate. My pick would be the River Island high waisted swim bottom complete with a catchy Aztec inspired print and a matching top. A high waisted take on the humble bikini. This creates a wonderful marriage between the fashion industry's love for bold bright prints, a rollover from the fall/winter 2014 collection and the high waist design.
Amazon.in: The Closet Label collection comes with bikini and one piece designs that add a high waist element to the swimsuit. With the one piece, it is more of a design and print thing but still adds to the look.
Zivame.com: The retro bikini takes the cake in this offering. Complete with moulded cups and retro prints, this high waisted bikini can be paired with smart platforms and a matching cap to create perfect retro inspired look.