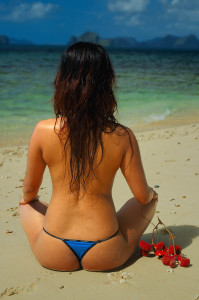 I have started a rigorous leg workout at my gym. The problem is that my Indian hips are already too wide and then, everything that I eat goes to my hips. I am a pear. A bottom heavy pear. And to tackle this I have started squatting and lunging my way to the gym. After a day of vigorous exercise, I decided I was happy enough to want to show off my thighs in all their glory and avoid those dreaded panty lines that come in with a tight underwear and thick thighs. I pulled on my G string and wrapped it around and strolled out in tight opaque leggings and a crop top.
Needless to say, I was one happy woman, even if I did start feeling a bit uncomfortable.
The point is G strings can come in very handy when you have to go to a cocktail party or want to show off your legs at the beach. For the uninitiated, a g-string panty is basically a piece of cloth you tie around your waist. It is like a normal panty except at the sides where there is a string. You can adjust the snugness of the string according to your preference and avoid panty lines and a lot of discomfort that comes with ill fitting panties.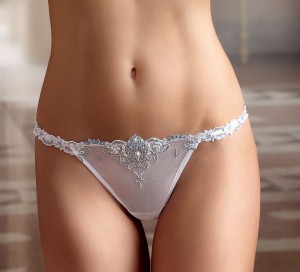 In India, if you are looking to buy G-strings, some brand that you can try are yogalz average Rs 150-200 per piece, Under Cover Lingerie at Rs 300 a piece, Inner Sense at Rs 500,Pretty Secrets at Rs 300,and Lace and me at Rs 600. You can also find some in a higher range and more designs with Calvin Klein and DKNY coming in at Rs 900 a piece, Dita Von Teese has some exquisite designs for Rs 3000 a piece while Agent provocateur and Bracli fall in the middle with Rs 1000-1500 apiece.
You can always find G-string online with the all helpful amazon.com. To help you, here is a list of some websites that do the deed for you: