Has this summer begun to bother you and make you uncomfortable? Don't go around losing any more sweat over it because Triumph's new summer collection has come to the rescue.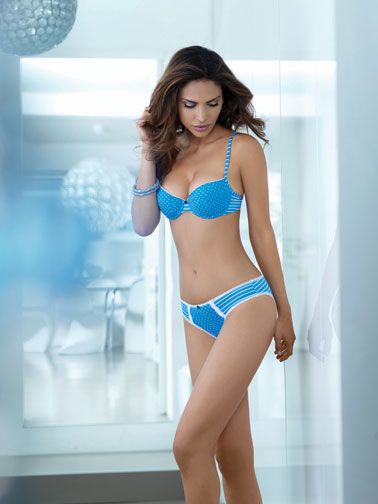 The international lingerie brand, Triumph, has launched three new lines to help you beat the heat this summer.  Triumph's new line labeled 'Fashion 09 W' hosts an exciting range of wired bras that provide high breast coverage and is adorned with lace to increase appeal. It is also a very functional design and reduces bustline by 1 cup. The 'Fashion 07 WHU' is a range of underwired push-up bras that provide 3/4th breast coverage. It has a second inside padding to provide push-up. Soft and smooth fabric has been employed to ensure comfort and the edges have lace worked upon it to add some extra oomph. The 'Fashion 08 WHU' collection is a similar bra with a removable cookie and fun stripes and dots patterns.
Triumph International has not only produced classy intimates, but they have also furthered the cause of eco-friendliness by the use of organic, eco-friendly material. In Japan, Triumph has also taken up the initiative of producing industrial fuel by recycling used bras. Did you even know that was possible? So cheers to innovation and let's hope more such products keep coming our way!