Our very own sleepwear and luxury lingerie designer, Suman Nathwani is pleasantly surprising the intimate apparel world with her first beach wear collection this season. Her collection will be showcased in the autumn/winter edition of Wills India Fashion Week 2013, starting from today.
Coming from a designer who has for the past two decades carved a niche in the world of luxury lingerie and sleepwear, her treading into the unknown waters of beachwear is enough to cause a stir. The reigning designer from Kolkata is known for her innovation in terms of materials, colours, embellishing her creations with exquisite lacings and crystals.
The concept of beachwear has never been given much of importance in India. How many of us actually think of styles and trends while deciding what to wear to a beach? Not many. We go by the idea that designer beachwear is the luxury for the lucky few and sulk. But this beachwear collection meant for the average Indian woman is for those of you who have been waiting for a long time for an Indian designer to bring in beachwear in the form of kaftans, maxis and beachcovers that suits the Indian body contours.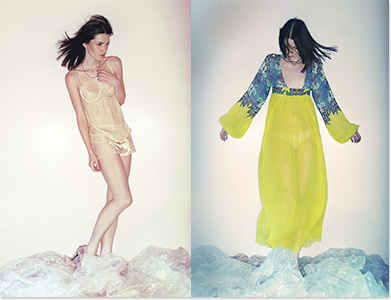 Just for information, the much-awaited beachwear collection is said to be inspired by the integration of human and technology creating a romance of its own kind. Dominated by geometrical patterns and surfaces in purest of their forms, the concept is interestingly called "Humanoids".
Her regular collection on sleepwear and lingerie will reflect the true spirit of woman of today – self assuring, self–indulgent and independent. The French laces, satins and the Italian braiding techniques and silks are all here this season to enchant the Indian woman in you.
The idea that designer lingerie and bedroom wear only to woo the man of your life is passé. Nathwani's autumn/winter collection will drive home the fact that for a girl with a mind of her own, a designer sleepwear could just be a treat to herself. So, bring out the free spirit and be sensually comfortable in your femininity.