We are declaring the results of the 'Your Right to Write' contest winner. Congratulations to  'Govind Mehrotra' for his article, "Lingerie in India".
We would like to thank all our participants for participating in the contest to make it a success. We have  published Govind's article below for our viewers to read.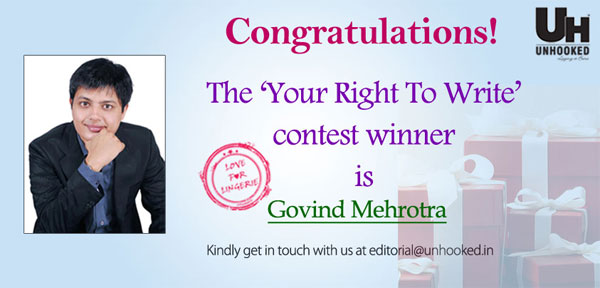 "Lingerie" – the very mention of the word raises quite a lot of stuff ranging from interest in the subject matter to steeply erected eye-brows & other oh-so-obvious things! But mind it man, the larger quantum of public interest the word carries in itself, the lesser it is preferred to be mentioned publicly. And gosh, I am serious.
In a scenario where we are fine waking up to find Sunny Leone on the front page of the magazine section of newspapers, clad in a barely there bikini, we still have apprehensions talking about this awesome piece of garment. Isn't it? It's still discussed in a hush-hush voice & even been given secret "code names" for 'sophisticated' reasons.
The other day I was at a high profile social do, & overheard a lady telling the other to 'correct' her "tube light" & I was amused to see the reaction of the other; which was adjusting the strap of her bra! I literally, burst out into laughter imagining what else they could have 'code-named' the other constituents of lingerie! and for that matter, what do they refer to as 'switch', if the strap was a 'tube light'?! LOL.
Since it's existence, lingerie has excited more men than women, but if we still decide to go by the belief, that ours is (theoretically only) a male dominated society (but practically it's not) then it should be crowned as the "National Word" in the Gazette of India, but to the contrary & unfortunately, it's not.
I personally feel very comfortable & enjoy walking all by myself into a lingerie store to buy stuff for my girl & the good part being that lately I have started mastering the art! For now, at times, I am asked for 'my advice' before finalizing her decision in an either-or situation, for instance whether to go for a hipster or a bikini bottom, or to pick aqua blue or pretty pink!
It's high time that we stop ogling at the gigantic life-size posters of the new spring summer collections or peeping through the glass doors of the lingerie stores to fantasize and make ourselves feel like Superman in our pants!! All this, while being in the corridors of the mall and trying to have a glimpse every other second still pretending like we ain't even aware that lingerie exists, which in the rarest case also isn't going to make lingerie any less appealing & the centre of attraction for the Indian minds!  We need to speak about it & break the captioned boundaries of being shy and immature under the tag of being 'sophisticated', because one thing is for sure – keeping shut about it won't make others speak up.
And till then, keep adjusting your tube lights (& lamps, bulbs, halogens etc.) and enjoy your mute deep rooted 'love for lingerie'….!